So it's the new year (Happy 2013 folks) and now my count down is on.. It's exactly 59 days until my surgery.. Nervous much?! Christmas was awesome, I ate & ate & ate, and then I ate some more… In 'preparation' of course. It had nothing to do with the endless supplies of chocolates & boxes of Tayto that came into the house.
I did have a wire issue pre-Christmas so arrived to the lovely dentist who said I've had more wire issues than usual, makes me wonder what I'm doing wrong; anyhow he fixed the wire to my relief. He also mentioned my excess staining from tea & the plaque build-up on my teeth.. PLAQUE.. Me… who spends up to 15 minutes at a time brushing my teeth. I was not so impressed so he sent me off with a shopping list and brushing instructions, Challenge Accepted. I arrived back on Monday, three weeks after this and received a round of applause, yes round of applause from my dentist for my good work and plaque tackling. I tried to act all cool but inside I was secretly giving myself a tap on the back, go me. So plaque removed (all my own work) he tackled the tea staining and boom I've a shiny set of pearly whites. He also sent me off with a stern talking to about my tea drinking. So pre-appointment I was at 10-13 cups a day (down from an easy 15-20), since Monday I'm between 5 & 8, drastic changes for me… Along with some mood swings and withdrawals (apologise to anybody who witnessed these :p). My aim on recommendation form said dentist is 3-5 cups a day, wish me luck!
So here's how you can tackle your plaque:
The Brush

: Oral B electric toothbrush is the only way to go. I bought mine about a year and a half ago. Now it does take 17 hours to charge, don't be put off, it's worth every second. The Precision heads are the best for me anyway as they're small and get to those hard to reach places.
Tepe Brushes

: These come in various sizes and colours, possibly not best to choose the pretty colours like I did.. You just need to find the right size for you but you can get these uber cool packets with one of each colour to find your perfect match. I have the Pink ones because they're the smallest but they're really flexible so it's really hard to get control of where they're going so as soon as I've used these up I'm going right back to blue.
Toothpaste

: Well this is a bit of trial and error. I was all about the Oral B Pro Expert but I'm currently experimenting with Colgate, I feel like such a cheat. I'm currently using Colgate Advanced Whitening but not loving the taste.
Mouthwash

: Listerine 6in1. My dentist has recommended this every time I've been to visit him and I finally got a big bottle after my last visit. It's amazing once you get past your taste buds being burned off. Fight through, it's worth it. Instant improvement…
Finally disclosing tablets are great. You simply chew on them after brushing your teeth and it will stain anywhere that still has plaque and you can see where you're missing.. Amazing!!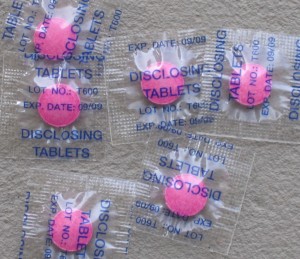 I use all these twice a day and use the mouthwash after most meals. Good Luck
J